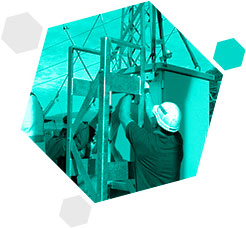 Operating since the year 2008  "Transelektrik-N"LLC has taken an active role  at projects implemented  in the territory of the country and has got tenders.  As the clear sample of this , there were installed and turned over 1 substation of 6.3 MVA, 2 substation of 1000 KWA, 2 substation of 630 KWA at Khizi district,Gizilgazma village, 1 substation of 4 MVA at Pirgulu territory of  Shamakhi district, several stations at Baku city on the basis of state order/with the state ordering. As well as 2 substations of 1000 KWA were installed at Sangachal "Elevator" project and at the moment installation operations of substation of 110/10 KV are going on.
At the same time company realizes purchase order and installation of  PREFAB substations within the shortest period and with the quality which meets world standards.
"Transelektrik-N" LLC has the license for installation, adjustment and repair of the energy objects, equipments and devices . At present company owns  electrical goods and equipments, as well as technical base for the implementation of listed activities.
"Transelektrik-N" is the  distributor of  transformer factories of  leading  companies of  the world such as "Schneider", "Eltaş" , "Best" etc. in Azerbaijan and currently transformers of mentioned companies are available at our storehouses.
We use equipments  of  leading companies of Europe  in the field of automatics such as "Schneider", "Moeller", "Siemens", "Legrand", "ABB" and "Federal" "ALCE", "Esitaş" companies  of Turkey  during the installation of substations.
At the same time our company collaborates with "Azərsu", "SOCAR", "Gilan İnşaat" and many other considerable companies and organizations of our country.
Though our company is young,  it has achieved specific successes at the mentioned field and not being satisfied with it, it will  bring innovations at electricity market of Azerbaijan in future.
Our purpose is the implementation of doings with good quality and  within the shortest period,   
Our objective is the satisfaction of consumer !
By working with us you will economize your budget and time !
With best regards , "Transelektrik-N" LLC administration !